Nathan Scofield Kimball
oregonpioneers.com
Compiled by Stephenie Flora
copyright © 2010

Nathan Scofield Kimball
b. 20 Dec 1807
d. 30 Nov 1847 inWaiilatpu, Walla Walla, WA
m'd HARRIET SANBORN 23 Feb 1830 in Philipsburg, Missisquoi, Quebec, Canada. [Jann Callaghan Cullen]
Harriet Sandborn
b. 26 Feb 1809
d.
m1. 23 Feb 1830 in Philipsburg, Missisquoi, Quebec, Canada. [Jann Callaghan Cullen]
m2. John Jewett
Children:
i. Susan M. Kimball, b. 21 Sep 1831; m. Augustus C. Wirt, 1850.
Spec: January 20, 1848; b.c1831
1860: Pacific Terr, WA; Susy Wirt, 27, b. VT
1870: Lexington, Clatsop Co, S.M. Wirt, 38, keeping house, b. VT
1880: Astoria, Clatsop Co; Susan M. Wirt, 48, keeping house, b. VT
ii. Omar J. Kimball, b. 27 Aug 1833; d. 1847, On Oregon Trail; d. 24 Sep 1847 tipus fever; s/o Nathan Kimble Sr.
iii. Nathan M. Kimball, b. 07 Aug 1835; m. Lucinda Niles, 1861.
1850: Clatsop Co, OR; John Jewett, 54, farmer, $4000, NH; Mrs., 42, VT; W., 19, m, IN; A., m, 18, IN; N., 15, m, IN; D., 13, m, IA; Daniel, 13, IA; J., 11, m, IA; F., 7, m, IA; Thos. A., 1/2, OR; Nathan Kimball, 15, IN; B. Kimball, 11, m, IN; S. Kimball, 10, f, IN; M. Kimball, 4, f, IN; J. Weller, 30, m, Eng
iv. Byron S. Kimball, b. 10 May 1839; d. 1899.
1850: Clatsop Co, OR; John Jewett, 54, farmer, $4000, NH; Mrs., 42, VT; W., 19, m, IN; A., m, 18, IN; N., 15, m, IN; D., 13, m, IA; Daniel, 13, IA; J., 11, m, IA; F., 7, m, IA; Thos. A., 1/2, OR; Nathan Kimball, 15, IN; B. Kimball, 11, m, IN; S. Kimball, 10, f, IN; M. Kimball, 4, f, IN; J. Weller, 30, m, Eng

v. Sarah Sophia Kimball was born 1841, and died 1917. She married Joel Wilson Munson 1859.
1850: Clatsop Co, OR; John Jewett, 54, farmer, $4000, NH; Mrs., 42, VT; W., 19, m, IN; A., m, 18, IN; N., 15, m, IN; D., 13, m, IA; Daniel, 13, IA; J., 11, m, IA; F., 7, m, IA; Thos. A., 1/2, OR; Nathan Kimball, 15, IN; B. Kimball, 11, m, IN; S. Kimball, 10, f, IN; M. Kimball, 4, f, IN; J. Weller, 30, m, Eng
1. Clara C. Munson, b. Oysterville, WA
Notes for CLARA C. MUNSON:
"A woman distinguished as the first to obtain in Oregonthe distinction of `woman mayor' is interviewed for a three installment sketch by Mr. Lockley. Of an ancestor who perished in the Whitman massacre she speaks and of her father's hard luck in the oyster business.—
While enroute from Astoria to Portland recently I met Miss Clara C. Munson of Warrenton on the train. `Sit in and tell me the news of Warrenton,' I said, as I made room for her to sit beside me. When we had threshed out the current topics of the day, I said, `Now is a good time for you to tell me when and where you were born, what you have done and what you are planning to do.'
`I was born at Oysterville, Wash, on the last day of the oyster season,' she replied. `The year of my birth is neither here nor there, for if I told you it was June 16, 1861, you would get busy with your pencil and notebook and figure out how old I am. My father, Captain Joel Wilson Munson was born on Christmas Day, 1818, at Hebron, N.Y. My mother and father were married on St. Patrick's day, 1859, at Oysterville. My mother, whose maiden name was Sarah Sophia Kimball, was born in Indiana in 1841.'
`My father came to Oregon in 1853 by way of the Isthmus with his cousin and two boyhood friends. He brought his fiddle with him. On the boat they nicknamed him "Fiddler Smith". His cousin and chums continued to call him that in a joking way after they came ashore and the first thing father knew the name had taken and everybody was calling him "Fiddler Smith". If strangers asked where J.W. Munson lived non one could tell them, everybody knew where "Fiddler Smith" was to be found. His mail came addressed to "Fiddler Smith", and the first property he bought the deed was made of to "F. Smith". When it came to being married, my mother thought it was time to call a halt and to resume his real name.
`Father worked on this water power mill till it was finished and then worked in the mill for three years. In 1856 he went down the Columbia to Astoria and did contracting and building. He built a house for Dr. Trenchard that is still in use. In 1851 he moved to Oysterville and went into the oyster business. He owned a large oyster bed and planted a large amount of oysters. As you know, it takes several years for the baby oysters to mature and be ready for the market. By the winter of 1861-62 he had our 10,000 backets of oysters ready for market. The oyster schooners came up from San Francisco and the oyster buyer offered him $1 a basket, which price he agreed to accept. Just when he was ready to harvest and sell his oysters and bank his $10,000 there was an extreme low tide, and at the same time there was a most unusual cold snap. The cold snap caught the oysters exposed to the air while the tide was out and froze every oyster, so my father lost the work of several years in a few hours. He went into Oysterville with $4000 cash, put in six years of hard work, and came out with a wife and two babies and no money.'
`My mother crossed the plains in 1847 with her parents, Mr. and Mrs. Nathan Kimball. My mother's father, Nathan Kimball, started for Oregon with a fine outfit, $1500 in gold, a wife and seven children. Their oldest child, a boy 16 years old, died of mountain fever on the plains, as did one of their little girls three years old. They reached Dr. Marcus Whitman's mission in September, 1847. Dr. Whitman, after talking to Mr. Kimball for a while, suggested that he winter at the mission. He told him he could give him enough work to keep him busy till spring and that the children could go to school all winter. On November 29 the Indians killed Dr. and Mrs. Whitman and some others and wounded my mother's father. He went up into the loft with the Sager children. The Indians killed him the next day. Peter Skene Ogden, factor of the Hudson's Bay company, went up from Vancouver and gave the Indians blankets, beads, tobacco and other trade goods for the captives the Indians were holding. Among these captives were my grandmother and her five children, Susan, Nathan, Byron, Sarah and Mina the baby. Susan later married August C. Wirt, who came across the plains to Oregon in 1844. My mother, Sarah Sophia, was married in 1859 to my father, J.W. Munson. Mina married A.J. Megler. She was running a lodging house at the time of the big fire in Astoria and (missing part of sentence) land and entered the Odd Fellows home, where she now resides.'
`My mother's father was killed November 30, 1847. Her mother, with the other rescued prisoners, was taken to Oregon City . Bachelors and widowers from all over the valley came to Oregon City to select wives from among the women who had escaped being killed. My mother's mother married John Jewett, a widower with eight children. With my grandmother's five, this made 13 children in the family. They didn't think 13 was a lucky number so they had two mother, so when it came to children it was a case of yours, mine and ours. They were married in April and moved to Clatsop Plains. Later they took up a donation land claim about midway between Warrenton and Seaside. This place was later known as the West place, as Joseph West bought it and owned it for many years, living on it till his death a few years ago. Grandfather Jewett died at Astoria in 1892.
`My mother and Bethenia Owens were children together on Clatsop Plains. Bethenia was married at 14, and his sister at 13. Bethenia married a man named Hill. They separated when she was about 16, leaving her to care for her baby son. She took in washing, and while she rubbed the dirty clothes she studied from a book she had fastened beside the tub. When she had got through the Third Reader she wanted to become a teacher. My father was chairman of the school board and school examiner. He was intrusted with the job of selecting a teacher for the school there. He had a great deal of sympathy for Bethenia, so when she came to be examined for her diploma he said, "spell baker". She spelled it correctly so he gave her her diploma and appointed her teacher. She later married Colonel Adair. She is now known as Dr. Owens-Adair, and at the age of 85 is still engaged in working in behalf of the public welfare and in the service of humanity." [Impressions and Observations of the Journal Man, May 29, 1925; Oregon Journal, Portland, OR]
vi. CLARICE KIMBALL, b. 1844; d. 1847, On Oregon Trail
vii. NINA ANN KIMBALL, b. 20 Dec 1846; d. 1928; m. (1) ISAAC BOGGS, 1860; m. (2) ALEXANDER J. MEGLER, 1867.
1850: Clatsop Co, OR; John Jewett, 54, farmer, $4000, NH; Mrs., 42, VT; W., 19, m, IN; A., m, 18, IN; N., 15, m, IN; D., 13, m, IA; Daniel, 13, IA; J., 11, m, IA; F., 7, m, IA; Thos. A., 1/2, OR; Nathan Kimball, 15, IN; B. Kimball, 11, m, IN; S. Kimball, 10, f, IN; M. Kimball, 4, f, IN; J. Weller, 30, m, Eng
Notes:
Diary of Elizabeth Dixon Smith p.134 Sep 15 Layed by this morning, one company moved on except one family. The woman got mad and would not budge not let the children. He had his cattle hitched on for 3 hours and coaxing her to got but she would not stur. I told my husband the circumstances and him and Adam Polk and Mr. Kimble went and took each one a young one and cramed them in the wagon and her husband drove off and left her siting. She got up took the back track traveled out of sight, cut a cross and overtook her husband. [Covered Wagon Women Vol 1 compiled by Kenneth Holmes p. 134]
Estate of Nathan S. Kimball:
In the County Court of Clatsop County, Oregon
In the Matter of the Estate of Nathan S. Kimball, Deceased,
The final account and report of Nathan M. Kimball the administrator of the estate of Nathan S. Kimball deceased having heretofore been filed in this court and objections having been filed to the same by Susan M. Wirt, Mina A. Megler, Sarah S. Munson, Mary Surprenant, T.S. Jewett, heirs at law of Nathan S. Kimball deceased and Harriet Kimball Jewett, deceased and by A.J. Megler and Clara C. Munson, Executors of the last will and testament of Byron S. Kimball, deceased, and said Byron S. Kimball being an heir of said Nathan S. Kimball, deceased, and also by Clara Munson as Adminstratrix of the estate of said Harriet Jewett, deceased, and a trial having heretofore been had herein and the evidence take upon said trial over said objections and upon the hearing of said final account having been heretofore submitted to the court and this court having fully considered the same together with the arguments of the attorneys for said administrator of said estate and for said heirs and representatives objecting to said final account and being fully advised in the premises--disallows the following item set out in said account--
First--The court allows the item and contention of said Adminstrator to the effect that said administrator is the owner of one half of the amount allowed for the Indian Depredation Claim No. 1766 by purchase and assignment from his Mother Harriet Jewett, but finds that said alleged assignment was not ever made and that one half of the money realized from said claim after deducting costs of administration and other items allowed as deduction therefrom in this matter--that is to say half of one half of the money left for distribution in this matter is to be distributed to Clara C. Munson, adminstratrix of the estate of Harriet Jewett, deceased, and that the other half of said money for distribution be distributed equally among Susan M. Wirt, Mina A. Megler, Sarah S. Munson, said Nathan M. Kimball and said Executors of the last will and testament of said Byron S. Kimball, deceased as heirs of said Nathan S. Kimball, deceased, each of said heirs or the representatives hereof to take one fifth of said half of said money for distribution.
--That the following items appearing in the said final account are disallowed--

--1865--Fees to Attorneys in Washington, D.C. for services in attempting to collect said claim for Ind. Dep.--Name of firm Brown and Harris $10.00
--May 10, 1889--Paid witnesses and fees and time to Astoria $6.50
--That the following item--"Trip of Adminstrator to Astoria from Seaside, fare $3.00, time 2 days at $3.00 per day and expenses--$9.00 is disallowed as to $6.00 thereof and allowed as to $3.00 thereof.
--That all other items for costs, disbursements and expenses by said administrator are allowed.
That according to said findings by the court there should be on hand for distribution by said administrator the sum of $1800.00 less $479.50 making $1320.00 and it is ordered and adjudged that one half of this sum be paid to Clara C. Munson, the Adminstratrix of the Estate of Harriet Jewett deceased and that one-tenth thereof by paid over to each of the following named persons to wit--Susan M. Wirt, Sarah S. Munson, Mina A. Megler, Nathan M. Kimball and A.J. Megler and Clara C. Munson, Executors of the estate of Byrson S. Kimball, deceased.
And it is further ordered and adjudged that upon the distribution of the sum of #1317.50 by said adminstrator in the manner hereinbefore stated and upon his filing herein vouchers showing such distribution he may be discharged from his trust as such administrator and his bondsman exhonerated as the estate will then have been fully adminstered.
It is further ordered and decreed that said adminstrator make distribution of the final aforesaid in the proportions and to the aforesaid heirs and representatives on or before 10 days from this date.
Aug 1st, 1900
J.H.D. Gray, Judge
[Oregon Archives, File K-002 Clatsop Co, 1847, Nathan S. Kimball]
"Recollections of the Whitman Massacre by Nathan Kimball (Jr.), a Survivor— Some time in the month of November, 1847 (I do not remember the exact date), everything about the Whitman Mission was going on as usual. Quite a number of Indians were gathered about the place, but as a beef was being butchered, the crowd was easily accounted for. Three or four men were dressing the beef in the barnyard. One of them was my father. All at once several shots were fired, and upon running out of the house I saw men running, my father among them, and the Indians were shooting at them. My father had on a white shirt, and I could see that his arm was broken at the elbow, for it was red with blood, and his arm was swinging back and forth. He succeeded in getting into the schoolhouse, where there were several children, and there he stayed all night, so the children told us the next day. While the work of death and destruction was going on outside, and it did not cease the first day, father, after remaining all night with the children, was suffering much with his broken arm.
On the following day, driven to desperation with his suffering and those of the sick children with him, one of whom was Joe Meek's little daughter, Helen Mar, he resolved to procure some water from a stream which ran near by. He had not gone far before an Indian saw him, and he was shot down and killed instantly, so the children told us the next day. I never saw him alive after I saw him running with his arm swinging. The Indians had planned it so as to have two or three Indians wherever there was a white man, and when the signal was given they all commenced their hellish work at once. Within ten minutes after they commenced all were killed who were killed, with the exception or one or two.
When I saw the massacre going on I got my father's rifle and was going up into the garret, intending to shoot out of a hole. The house was built out of brick, a foot square, one of which had been left out and a glass put in, and it was through this opening I intended to do some shooting. I well knew they would not burn the building. A woman who was there took the gun away from me, saying it would not do to shoot an Indian, for it I did they would kill us all. I said: `They will do that anyway, and I want to kill some first.' But she was the same woman for whom I afterward went three miles at night to get the interpreter to protect against an Indian.
It was the next day when the Indians put us on the benches and debated whether they would kill us or keep us as prisoners. The night of the massacre I stayed up in a garret, hid under some running gear of a wagon, expecting every minute would be my last.
I have always thought that one thing that saved my life was being a great friend of Steven, my chum. He was a Catholic, and they were all right with the Indians. He told me a great many times to stay with him and the Indians would not hurt me. They killed Francis Sager, who was only a year or two older than I. That made me think they would soon kill me.
About a week afterward, Crockett Bewley, who was sick abed, was brutally murdered. I was in the room when they tomahawked him and jerked him out on the floor. Afterward I saw a piece of his skull, the shape of a half-dollar, lying on the floor. Meanwhile all of us were enduring such agony as seldom falls to the lot of humanity to suffer. We were compelled to work for the Indians. Our feelings were continually harrowed by the terrible sights which everywhere met our eyes, in going back and forth between the houses, carrying water from the stream, or in moving in any direction whatever, for the dead were not removed until the setting in of decay made it necessary for the Indians themselves.
The bodies or pieces of them, lay scattered all around, an arm here and a leg there. Some of the men had their breasts open and their hearts taken out. I saw two Indians each with a stick and a human heart stuck upon it, which they showed to the women, and told them they belonged to their husbands, and that they were going to eat them. I don't think they did, but I do not know. The buildings were plundered of everything the Indians coveted. The women were forced to work making clothes for them. Bedding, sheets and window curtains were made up into garments for the devils. So passed about a week and a new horror was added. The devils incarnate began taking the young girls to themselves for wives. Only one was taken away, that was Miss Lorinda Bewley, the eldest of the girls at the mission and a teacher there. She was taken to the Umatilla to the lodge of an Indian by the name of Five Crows.
As to the cause of the massacre, it is pretty hard to tell, as there were so many indirect causes at work that could produce a revolution among the Indians, that it would be unfair to name any particular one as the direct cause. The last cause was a season of sickness among the Indians; the measles were brought among them by an immigrant train. While Doctor Whitman was attending them they were also doctoring themselves. They had sweathouses in the ground, and would put in water and hot rocks and create steam and then get in and sweat themselves and run out and jump into the ice cold water. Anyone can judge the effect it would have on any one having the measles. It did not matter that Dr. Whitman had exerted himself night and day for them. Their peculiar notions about the `tamanawos' or `medicine man', made it the duty of the relatives of the dead to avenge their death. Three, four and five would die in a day, and sometimes more, and their remains would be brought there in the evening to have coffins made for them. I have seen as many as seven dead Indians hanging across the fence, the same as you would hang a sack of wheat, waiting for coffins.
There was another suspicious character there by the name of Joe Lewis, a half-breed, who came there with an immigrant train from Fort Hall. He was much about the houses of the whites, and pretended to relate to the Indians conversations which he claimed to have heard between Doctor and Mrs. Whitman. He told the Indians that they were talking of poisoning them in order to get them out of the way, so that the white people would own the country.
I saw him take a boy about fifteen years old, names Sager, by the nose and shoot him in the head with a pistol, while I was a prisoner there. We had to work for the Indians. Dr. Whitman had two or three hundred bushels of onions and potatoes, and so on, in his cellar, and we youngsters had to pick, sort and stack them. Then the squaws carried them away to their village, three miles away. There was another boy there about my age. He and I were chums. One night, about 10 o'clock, one of the women came to my chum and I and told us that Tamahas, an Indian, was trying to get her to go with him to his lodge, and she was afraid he would force her to go. She wanted us to go to the Indian village, about three miles away, and get a Frenchman, an interpreter, and bring him to her. The interpreter's name was Niquilau (Nicholas Finley). He was a good man. We did not feel much fear when he was near.
After the massacre the Indians would come from their village to the mission, three, four and five at a time, and by noon there would be two or three hundred at the mission. By evening they would go again to their village. This evening they had almost all gone except this old Indian. After a good deal of coaxing, we consented to go, and we started. It was a bright moonlight night. When we got nearly there, we heard horses coming, and we ran into a large tract of cane, hid and waited for them to pass. There was a band of about a dozen Indians. After they had passed by we again started on our way, but here they came again, and again we broke for the cane field. My chum fell down and I lost him. It was not far now to the village. After searching and waiting for him, not daring to call out for him, I went on alone and came to the village.
It seemed to me there were a thousand dogs all yelping at once. However, as luck would have it, the first person I saw was an Indian girl. She was about my own age, and could talk some English. I said to her: `Sixtowa?'—in her language `How do you do?' She replied in English: `How do you do?' I asked her where Niquilau lived, and she said for me to come with her. I went with her, and she took me to his lodge. When he learned what I wanted he put on his coat and we started back. When we came to where I lost my chum we halloed for him, and after a while he came to us. He said he was completely lost. Well, we then went on, and soon arrived at the mission, and found the devil still there trying to get the woman to go with him. Niquilau made him leave at once. That same Indian, with four others, was hung at Oregon City afterwards.
About a week after this an Indian came to me and wanted me to go and live with him. He said he would give me a lot of horses and a girl for a wife. As I was only thirteen years old I concluded I was rather young to have a wife. The next day he came again and brought his girl to show her to me, and she turned out to be the same girl who had shown me where Niquilau lived.
There was another brute there by the name of Joe Stanfield. When the massacre commenced he went through the houses plundering and breaking open trunks and taking whatever he could find of value. Father had a silver watch hung on a nail on the wall. He grabbed it in such a hurry that he left the ring of the watch still on the wall. Mother brought it away with her. After we got down to Oregon City some of the women had him arrested for some of his devilment up at the mission. While in court he made an excuse to go out, but the sheriff kept a sly eye on him. He saw him digging in the ground with his fingers, and after his return to the courtroom the sheriff went out and examined the place where he had dug and found the watch and some money. It was father's watch, and mother, being in court, identified it at once and produced the ring that belonged to it.
While at the mission before the massacre he got sweet on a widow named Hays, but she despised him and would have nothing to do with him. So he rigged a scheme to compel her to marry him. He said she would have to make this promise or be killed, for he claimed he had saved her life by telling the Indians that she was his wife and that he had married her just before the massacre. She was compelled to make a solemn vow that she would marry him as soon as we got down to Oregon City. But when we arrived at Oregon City she told him she would scald him if he ever got near enough for her to do so. He was a French-Canadian.
Two days, I think it was, after the massacre, the Indians brought the benches out of the schoolhouse, placed them along in a row, and strung us youngsters along them. In front us stood a lot of Indians, armed and ready to shoot us. While they were holding a council to determine whether they would kill us all or keep us as prisoners, believing they were going to kill us sure, I whispered to my chum and told him I guessed they were going to kill us and we had better run. He said `all right', and I told him when I squeezed his hand we would make a break. We had to run about one hundred yards to get into a patch of cane, but we had to jump the mill race to get there.
Well, we started. I cleared the race, which was about ten feet wide, but my friend struck on the bank with his breast, and I turned and helped him up. We reached the cane and kept running for about two hours before we stopped. When we started some of the Indians shot at us, but missed us; but my cap received a bullet hole, which bullet also grazed my head. Night coming on, we lay down in the cane brake to sleep, and almost froze. I remember we would spoon up to each other, and when we got so cold that way we could stand it not longer we would flop over. Thus passed the night. In the morning three Indians came upon us while we were lying there. We were going to run again, but they grabbed us and told us they would not hurt us, because `we were big men and got away from the big Indians', and for us to come with them and they would give us something to eat. When we ran we ran in a circle, and when we laid down for the night we were not more than three hundred yards from where we entered the cane.
After the men were killed and Mrs. Whitman was not yet dead, but lying on a lounge in the house helpless, having been shot four times, the Indians wanted to get her out, but were afraid to go in because there were two or three men they had not killed and they did not know where they were. So they told some of the women to bring her out to another house, for they were going to burn the house she was in. Some of the women took hold of the lounge and carried her out. Thereupon the Indians shot her again. Yet she lived several hours after that. Whenever she struggled the Indians struck her in the face with their whips and continued to do so until she was dead.
After we had been prisoners for two or three weeks, all had a very narrow escape. The Indians had killed a beef, and had ordered the women to cook a big dinner. They did so, and made up some mince pies, and the Indians ate so much it made them sick. Not being used to pie, it acted as phsic. They thought they were all poisoned, and we had a hard time to make them believe the contrary. We finally persuaded them to wait a few days, which they did, and all having come out all right, they spared us; but it was a narrow escape from death for the whole of us then and there. [only Old Beardy was made sick and intervention by others saved their lives]
Some time about the middle of December the Hudson's Bay Company at Fort Walla Walla bought us from the Indians. They paid the ransom in blankets, tobacco and other stuff which delights the savage eye. It was agreed that the company should pay half down and the rest on our delivery at the fort. After receiving the first payment the Indians were not going to let us go, but two or three friendly chiefs helped us to get away. One morning we hitched up before daylight and made a start for the fort. I drove the team that carried our family. It was a tough trip. We hurried too much at the start, and our teams nearly gave out before we got there. It was soft sand nearly all the way. While on the journey an old Indian named Beardy would ride up on the off side of my team and lay his whip on the oxen and say to me: `Hom tits, hom tits, muchus cocol, muchus cocol.' He was telling me to hurry up the oxen, hurry up the oxen.
We arrived at the fort about 5 o'clock in the evening. Just in sight about three hundred Indians after us, but we got into the fort too soon for them.
We stayed at the fort about a week and then started down the Columbia river in some boats provided by the Hudson's Bay Company. The boats came through The Dalles, we making portage while the boats shot the rapids. Somewhere near the last of December we arrived at Oregon City , sixty-two of us, to be delivered to the governor. We were bought from the Cayuse Indians by Hudson's Bay goods and influence.
The number of victims of the massacre were thirteen men and one woman. None escaped who did not have to mourn a father, a brother, a relative or some friend. We lost about everything we had and arrived in Oregon City destitute." [Transactions of the Oregon Pioneer Association, Thirty-first Annual Reunion, p.189-195]
"Massacre Story is Told by Survivor. Mrs. Munson Recalls the Horrors of Whitman's Mission. She, with Mrs. Megler, The only Survivors in Clatsop Co.—
Two survivors of the Whitman Massacre in 1847 are residents of Clatsop County, and both pioneers of the county since 1848; they are Mrs. S.S. Munson, of Warrenton, and Mrs. M.A. Megler of Astoria. Mrs. S.S. Kimball-Munson of Warrenton, while visiting her sister, Mrs. M.A. Megler, in this city a few days ago, related what she knew of the `carnival of butchery' of Indian perfidy and murder unexampled in Indian narrative, on November 29, 1847, at Whitman's Mission, 25 miles east of Fort Walla Walla; and which massacre led up to the sending of U.S. Government troops to Oregon to protect the settlers; and which, with the settlement of Astoria in 1811, saved the northwest to the Americans.
It seems that these two sisters, with their mother, Mrs. Harriet Kimball Jewett, in 1848, came to Clatsop county and settled in their home on the Plains, with their sister Susan, aged 17, (afterward Mrs. A.C. Wirt); their brother Nathan Kimball, aged 14, and Byron S. Kimball, aged 9 years. Mrs. Munson, in rehearsing the history, said that when she was aged 7 years and her sister, now Mrs. Megler, was 2 years old, and their branch of the family could take advantage of the Donation Land Claim law, they settled on the section where now stands West's Station on the S.P & S. railway, and became possessed of the 640 acres.
`We sisters are the only survivors of the five children of Nathan B. Kimball, who was killed at Whitman's, and who was one of the five heads of the families who left families of six each, wife and five children then at the mission the oldest of our five being my sister Susan, and the youngest, Mina A., aged 16 and 1 years respectively.
I remember quite clearly the trip of my father across the plains and many incidents of the massacre. Father and mother, after two years of hard work preparatory to that trip, making clothes and getting together some fine brood stock and cattle, arms and ammunition and all manner of essential supplies and utensils, at LaPorte, Indiana, they with their seven children, left there in the early spring of 1847 for the Willamette Valley, and on they way they lost my sister Clarice aged 2 ½ years and my brother, Omar, aged 14 years. We arrived at Whitman's one month before the massacre, and my father decided to remain there for the winter, to rest the family after their long and perilous journey, and to take advantage of the school then running there for the elder children; intending to pass on to Oregon City in the year following.
During the middle of the day, on November 29, 1847, while father and several other men were dressing a beef, and after the Indian, Tomahos, had stepped behind Dr. Whitman and had drawn a concealed tomahawk and deliberately killed him with two blows on the head, the Indians made the attack and fired upon the white men; father was hit in the arm and we could see him running toward the creek with his broken arm and we could plainly see it dangling; he fell in the bushes and lay there hidden and as we supposed, dead, all that day and night and all of the 30th, when he crawled out in the twilight, and was just climbing the fence to our place when he was shot again, falling outward on the path, where he was found dead afterward. [Kimball took refuge in the upstairs with other survivors and was shot when he went out at night to get water for the thirsty children]
The Indians then robbed us of everything valuable and insisted that mother had money and demanded it of her; this probably because we had one of the biggest outfits that had reached there with the emigrant trains; she told them all the money was on Mr. Kimball, but they replied that they had found `only a couple of dollars'; but she insisted that `if that was all, some of them must have got it', and they desisted. Mother and Susan had all of $1,500 in their belts around them, and which had been carried by them and father across the plains in that fashion. The Indians had taken father's watch and chain, and to hide it and buried it, but a friendly Frenchman saw them doing this and told mother of it and of the spot, to which she went in the night and recovered them. [the watch was actually taken by Joe Stanfield who was later arrested for the theft]
On December 29th, after Peter Ogden, with 16 Hudson's Bay Company's men, had arrived at Fort Walla Walla from Fort Vancouver to bargain for blankets, guns, powder, and tobacco, for the ransom of the survivors of our camps, (51 in number) to be delivered at Fort Walla Walla, and after more or less bickering and doubt, we made that mad race of 25 miles, with two of the better Indians urging us on before the rest should change their minds; mother, with Mina, a babe in arms, driving the ox-team, we children in the vehicle, and brother Nathan, climbing in and out of the wagon all day, goading the oxen on, keeping them on the run as much as possible, until we at last reached Walla Walla that evening. We spent New Year's Day, and were then taken to Fort Vancouver by Ogden and his men and where we arrived on January 8, 1848, and on the 9th, we went to Portland, and were met by Colonel Gilliam and an advanced party of 50 men, them on the way to The Dalles and our rescue, and to punish the Indians, or the leaders of the massacre. That same day we reached Oregon City , remaining there until after our mother married Mr. John Jewett, who had lost his wife while crossing the plains; we then came on to Astoria and to Clatsop Plains, and here we have all since resided until death entered our circle reducing it to us two sisters, in whose memories are cherished those we know and loved and who carried us through the perils of that awful journey across the continent and through the Oregon wilderness and its fiercest historical episode." [Oregon Historical Society; vertical file]
"Young at 75, Hale, Merry Sole Living Survivor of Big Indian Massacre Says Old Days Were Bear of All. Father Time Lenient. Mrs. Mina Ann Megler Does Own House Work, Enjoys Useful Employment.— Mrs. M.A. Megler (Kimball) sole living survivor of the famous Whitman Indian Massacre 9 miles from Walla Walla, Wash., more than seventy-five years ago, yesterday expressed a fervent blessing for all worthy Astorians and a hope that all the rest would travel.
Laughing merrily as she recalled joys of other years, the pioneer lady said she entered fully into the spirit of the children's fun in the last few days when the snow flurries made sledding possible on the hill streets. She told of a `real snow' in 1871 (?) followed by an accommodating freeze, and how the flocks of big bobsleds and single sleds, hurriedly improvised went dashing down Tenth street, clear to the wharf, only saved from going into the river by a big woodpile. Who were the playmates then? She thought for a moment and names a few, laughing as she told something of each anf of his or her juvenile propensities. These included Dan Welch, Ed. Taylor, Brenham Van Dusen, Charley S. Brown, George Flavel, `Flem" boelling, the Taylor girls, Nellie Flavel, Sophia and Eliza Boelling, Carrie Van Dusen, Mrs. Rosetia Reed, Mrs. Badolet and many others.
Young at 75.
Admonished gently by a visitor against doing so much of her own housework and taking chances of colds, for Mrs. Megler was busy as she talked, she exclaimed; `Pooh! I'm not an old woman. I'm only 75. My birthday was December 20. And I never was sick a week in bed in my life, never seriously sick. Work is good for one. Folks would enjoy better health if they stirred about more and were more useful to themselves and others'.
Concerning Astoria's past Mrs. Megler has a wealth of interesting anecdotes and she praises other days as more enjoyable than these, because, she said folks lived naturally, simply and were more intent upon the common welfare. `Astorians in the past years had far more money then they have now,' she said. She spoke of the Sanitary society of the Civil War period, when her mother and others took part in the community sales to provide funds for war relief work; how they sold a supply of goose-wing rans, hand-made, over and over, as well as other articles, and sent east a fund of $800 for the noble purpose.
Vision of Future
`Astoria in the future', Mrs. Megler said, `probably would develop into the metropolitan maritime city of the pioneers' dreams, for most of them boosted, as is done today, and realized the natural advantage of the river and this city's location. The advantageous location really proved detrimental, she said, `for Portland became the industrial and financial center, instead of Astoria, and this city's growth was hindered.'
How One Boom Started
Mrs. Megler told how Henry Villard made a move in the early days toward building a railroad to Astoria, and that this started a boom here. Enterprising men stood about in excited groups, buying and selling lots. That's the way it will be when oil comes in, only more so. There were skeptics concerning our first railroad, too. I heard Captain Kamm, who married W.H. Gray's daughter, (Capt. Kamm owned the river boats, including the Lurline) tell A.B. Hammond, who was enthusiastic for the railroad, that it couldn't be done; that the cars would be blown off the tracks in stormy weather. Yet behold the railroad, and now we need another one into the Nehalem section.
Mrs. Megler was born in LaPorte county, Ind., Dec. 20, 1846. Her parents crossed the plains in an ox-team caravan when she was an infant in arms. They started with six other children. The eldest boy, Omar, died on the way, on the Snake river. Her father, Nathan Scofield Kimball, was a Green Mountain boy, imbued with the pioneer spirit. His ox-team outfit was well equipped, including a drove of fine cattle. Arriving at Dr. Whitman's mission, near the present city of Walla Walla, Wash., Mr. Kimball was persuaded by Dr. Whitman to winter there because there was plenty of work and Mr. Kimball was a first class carpenter. Besides, the children could go to school.
Superstition Causes Massacre
[Mrs. Megler had not yet reached two years of age when the massacre happened so any memories she had were no doubt heresay from others.]
A measles epidemic broke out among the Indians, who lived near the mission, in swarming numbers. Dr. Whitman labored heroically to halt the disease but the Indians were hard to handle. They would leap into the river, with the fever on them, which was fatal. Superstitious terror was killing them. The massacre followed. Fourteen men and one woman were slain.
Mr. Kimball, with a broken arm and otherwise injured, hid in the thicket beside the creek. Mrs. Kimball found him there, venturing to search for him despite the deadly danger. Meanwhile the Indians threatened the survivors, searching for money and guns. By presence of mind Mrs. Kimball managed to save the money belts and guns. While attempting to re-enter the mission that evening Mr. Kimball was shot and killer [he had made it into the mission but went out that night to try to get water for the thirsty children and was killed while trying to return to the mission]—the last man to die in the massacre [two more men were killed a week later]. Mrs. Kimball survived to the age of 91 and died in Astoria in 1887. She had married John Jewett, another pioneer. Mr. Jewett's daughter, Mrs. Mary Margaret Suprenant, sister of Judge Thomas Jewett of Hammond, now lives with Mrs. Megler.
Mrs. Megler married Alexander Megler at Skioanon in 1867 and moved to Astoria soon afterward. Mr. Megler was proprietor of the Astoria House, the only hotel here then, the site being at Ninth between Astor and Bond. He kept this hotel seven years, then took over the Occident Hotel, as Megler and Wright, conducting it until 1900.
Sat Beside President
President Rutherford B. Hayes was entertained at the Occident. `I sat beside the president at dinner,' Mrs. Megler said, `and I remember him, first of all, for his stately appearance and luxuriant beard, for his charming manners and geniality. He was accompanied by his son.' She told of the president's address from the balcony and how the people cheered.
Mrs. Megler praised the climate here as the most healthful to be found anywhere, herself a living example of its benefits, she said. In expressing Christmas wishes for `everybody' she asked that her friends cease to think of her as `old', because, she reiterated `75 isn't really old. My grandmother lived to 101, and she walked a mile the day before she died.'
Wants Women in office
Speaking of civic affairs, Mrs. Megler said it was a misfortune to the community for men to monopolize city government especially since they make `such a sad mess of it', and she hoped Mrs. W.S. Kinney, or someone similarly capable might be elected as the next mayor of Astoria. Women, by all means, should be elected to the school board, she said.
Mrs. Megler is an honorary member of the Oregon pioneers' association and at the unveiling of the Whitman monument she was the special guest of honor. [Oregon Historical Society, vertical files]
Oregon Statesman Index:
Kimball, (Mr.)
Foiled Portland robber, knocking him down and administering good pounding to him Nov 3, 1862 2:7
Is drowned when skiff is caught in Celilo rapids while Capt. Madison swims ashore Jul 3, 1865 3:3
Kimball, E.
Of Dry Creek has arm broken by kick from horse Mar 6, 1865 3:3
Kimball, Eleazer
married Jan 23, 1856 to Melinda Ann Sutton; all of Polk Co Jan 29, 1856 3:1
Henry Eleazer, son of Eleazer Kimball, died Jun 19, 1864 in Table Rock Valley, Jackson Co, age 6, Jul 4, 1864 3:4

Kimball, Everene married Nov 12, 1858 to Matthew L. Rice Nov 30, 1858 3:1
Kimball, M. proprietor of Olympia Circus (adv) Oct 5, 1858
Kimball, N. proxy for R.W. Morrison at Clatsop Co Democratic Convention May 25, 1858 1:4
Kimball, Sarah married Dec 18, 1859 to William F. Watts Jan 17, 1860 3:1
Oregon Spectator Index
Kimball, Byron S., age 8; Mrs. Harriet; Mina A., age 1; Nathan M., age 12; Sarah S., age 6; Susan, age 16 released by Indians after Whitman Massacre; arrive at Fort Vancouver. Jan 20, 1848 2:4
Kimball, Harriet Mrs. testifies against J. Stanfield, Feb 10, 1848 2:5
Kimball, Harriet Mrs. married April 16, 1848 to J. Jewett April 20, 1848 3:6
Kimball, Nathan S. wounded in Whitman Massacre Dec 9, 1847 2:4; dies Jan 20, 1848 3:1; May 30, 1850 2:4
The Mansion House was 400' to the east of the Mission House. It was built in the early 1840s by William Gray for his bride. Ever since Gray had left the mission in 1842, Whitman had used the neat, adobe building as a store house in summer and to house the emigrants in the winter. It housed 29 people in November 1847:
Saunders family
Rebecca Hays and son
Peter Hall family
Nathan Kimballs family
William Marsh, daughter and grandson
Jacob Hoffman
Isaac Gilliland
Joseph Stanfield
In the mission yard, fifteen year old Francis Sager shot a beef so that it could be butchered to supply the week's meat. Kimball, Hoffman and Joe Stanfield were preparing to start the process.
At the incessant yells of the attackers, Narcissa suddenly remembered the unlocked outside doors and hurried to bolt them. As she went to bolt the sitting room door, Kimball burst through. He was a giant of a man. His arm was hanging limp and bloody. He dropped to the floor, demanding water. It was Narcissa who set a half-filled pitcher on the floor beside him.
Now the door she had just locked behind Kimball was struck with such force the glass pane shattered. Narcissa ran across the room and looked out. Fleeing from the garden, Andrew Rodgers had run into it in blind fear. Narcissa let him in and rebolted the door. Rodger's slight frame was shaking as from a chill. His hat was gone and a tomahawk or club had struck him a glancing blow on the back of the head.
Now the sound of splitting doors filled the air. The women screamed and began pushing the children toward the stairway. Mary Ann and Catherine carried Helen and Louise upstairs. There Lorinda Bewley sat on her bed, wrapped in a blanket, mouthing words without sound. Kimball regained his feet and followed with the pitcher of water as Andrew Rodgers lifted Narcissa to her feet and moved her toward the stairway. In the crowded room upstairs Rodgers fell to his knees and began to pray.
Below, the war cries and destruction fell into ominous silence and were replaced by a pounding at the stairway door. Kimball took a broken gun stock from a corner and shover the barrel beyond the landing of the steep stairway. As the door broke upen there was a pause at the sight of the gun barrel. Tamsucky, who the Whitmans had long trusted, had been chosen to parley. He asked for Rodgers. "I am your friend", he called. "We are going to burn the house, and I want to lead you all to Finley's lodge." Rodgers was reluctant, but Narcissa asked him to talk in the hopes of saving them all, or at least the children. Rodgers removed the gun barrel and joined Tamsucky in the sitting room to talk. As he looked around at the destruction his gaze fell on the mutilated face of Doctor Whitman. All the other Cayuse were gone. It is hard to know what was said between them, what promises or threats were made. It was later stated by Tamsucky that he had asked if it was true that the Whitmans were poisoning the Cayuse and that Rodgers had said that it was true.
Kimball, not believing Tamsucky hid behind Lorinda Bewley's bed. Catherine was convinced that Tamsucky was the Indian who she had seen murdering her teacher. When she related her suspicions to Narcissa she was told, "You are mistaken. God has raised us up a friend." It was decided that the adults were to leave first with the promise that some of the women from the village would come for the children. Lorinda and Rodgers helped Narcissa down the stairs. When she reached the bottom and saw the hatcheted face of her husband she collapsed and was helped to the settee. Impatiently Tamsucky ordered that she be carried to the lodge of Finley. Joe Lewis, who was standing in the doorway, stepped into the room and took the front end of the settee as if to help. Rodgers picked up the other end and started through the doorway. Once outside the house, Joe Lewis dropped his end and stepped aside. Narcissa and Rodgers were shot down by a dozen rifles flashing in the dusk.
Thirteen of the 72 individuals at the mission were killed that first day. These included: Narcissa Whitman, Andrew Rogers, Jacob Hoffman, the schoolmaster L.W. Sanders, Mr. Marsh, John Sager, Francis Sager, Nathan Kimball, Isaac Gilliland, and Young Jr. Peter Hall, who had also escaped the original massacre, later disappeared and was never seen again.
For hours Catherine Sager sat on the edge of the bed upstairs staring into the dark. After Mother Whitman and Rodgers had left there had been more yelling and shots fired. So far no one had come for them. Kimball had fallen asleep as had the others in the room. Finally, sometime after midnight she also fell into an exhausted sleep. She awoke to the sounds of Louise and Helen Mar Meek crying for water. It was not long before Matilda and Elizabeth were also thirsty. There was no water in the room that was drinkable. The pitcher of water that Mother Whitman had brought up was now full of blood. Finally Kimball decided to attempt to find some. He took one of the buckets, dressed as much as he could to resemble an Indian and slipped into the night fog in the hopes of getting to the stream unseen. He was gone for a long time and then Catherine heard a shot and knew that he would not be returning. In the light of the new day Catherine was allowed to go for water and the Cayuse supplied them with some food.
The chief then called on the young men who wanted white wives to come forward. Two did so; one named Clark, and the other Frank. Both were influential and rich, and both were able to speak some English. The girls were ordered to choose between the young men. Mary Smith took Clark and Susan Kimball chose Frank. The chief then made a speech to the girls, telling them they must teach the men to read, and telling the men to be kind to their wives and provide well for them. Miss Kimball wept all during the speech, while Miss Smith showed her emotions only by flashing eyes and heightened color. The Indians were highly pleased with her conduct and gave her many compliments for her bravery.
On arrival at Oregon city, Mr. Ogden bade the group adieu. His memory was cherished by those who owed their life to him. Joe Stanfield was arrested on suspicion of having taken part in the massacre and he was brought to trial. On being taken into custody by the sheriff, he attempted to conceal a watch belonging to Mrs. Kimball and a considerable sum of money belonging to Mr. Hoffman. It was testified by the two widows that Joe had told them that he knew of the massacre prior to its occurence. He was convicted and sentenced to be sent to General Gilliam to be punished as thought proper. With the General's death prior to his arrival, Joe Stanfield went at large. It was later reported that he died in the California gold mines in 1849 or 1850.
Most published accounts state that Mrs. Hays had but one son, a four-year-old named Henry Clay. However, Catherine Sager Pringle and Nathan Kimball both state in reminiscences that there were two children when Mrs. Hays arrived, but that one of them died shortly after her arrival.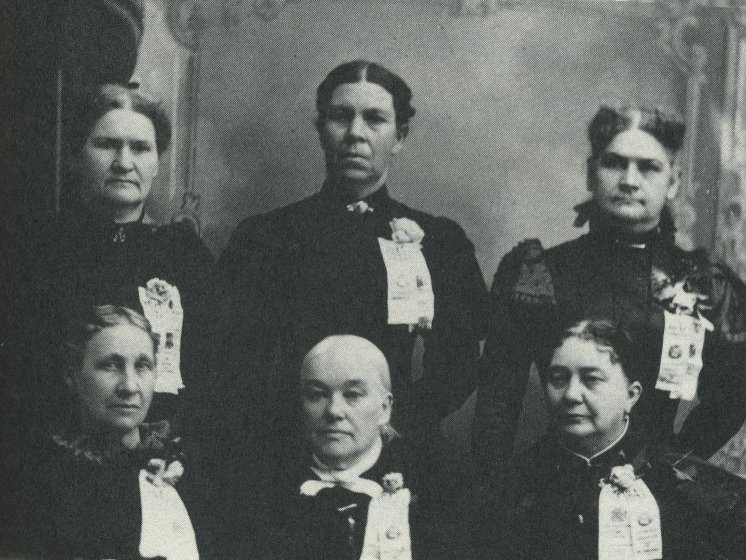 Whitman Massacre Survivors
Back Row: Kimball daughter, Nancy Osborn Jacobs, Mina Kimball Megler
Front Row: Elizabeth Sager Helm, Lorinda Bewley Chapman, Gertrude Hall Denny


My name is Stephenie Flora. Return to [ Home Page ] All [ Comments and Inquiries ] are welcome.