SWEET HOME THE EARLY DAYS
by
Mona Hyer Waibel
All photos are from the personal collection of Mona Hyer Waibel.
Use of them for commercial purposes is prohibited without her permission
.

In 1852, the Lowell Ames family with six sons arrived in the Sweet Home Valley, the first permanent settlers, where they built a water-powered saw mill. They were the first to file for land claims. The Mormon family fled Missouri because of religious persecution. This family helped settle the area. Many things are named for them; Ames Creek and Ames cemetery are two.
Early Sweet Home followed along the path of the South Santiam River in Linn County. Today the streets continue to follow this irregular river bank through the small town of Sweet Home. The basin shaped valley is surrounded by mountains and small timber. The climate is mild and approximately 52 inches of rain fall each year. Snow is seldom and mostly in the foothills that rim this area. Frost comes in late fall and the temperature rarely drops below the freezing level.
The west part of town was called Buckhead and the east was Mossville. It was a wild place then and the town fathers thought a more dignified name would bring in more good people to settle. In 1874, both names were dropped and became one community, Sweet Home. It indeed seemed to work as more families arrived to make their home.
Also in 1852, Andrew Wiley settled here. Wiley would one day lead surveyors to a way across the mountains.
The Moss family arrived that same year too. A saloon on Ames Creek run by Moss was always busy. Moss's dry goods store was also the post office, and Moss was postmaster. Bartering for staples was done at Moss's store: trading bacon, eggs and butter for sugar, coffee and flour.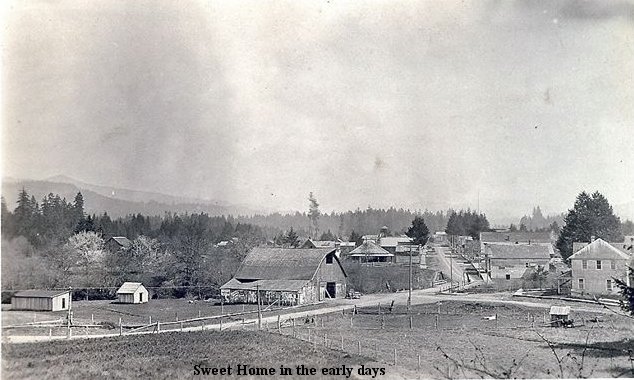 In 1870, Sweet Home's population was 199. And this would be the way Martha and John Thompson found it in 1882. Sweet Home Valley was indeed isolated from the rest of the state. From Martha in 1950 "When John and I first came here, he worked in the woods cutting tanbark (probably chittum). We homesteaded on a ranch ten miles from town. Only a few families lived here then. We lived in the brush and all we owned were chickens, cows and pigs. Sometimes bold cougars killed our livestock. We raised our own vegetables. Every Wednesday we came to town to get our mail. The Minneys, Paddocks, Keeneys, Riggs and Malones would be there too. It seemed so different out here from the settled community we came from. Life has always proved interesting." Martha considered the trip out to Oregon as one of the most exciting events of her life.
The first schoolhouse for Sweet Home was built in 1874 and sat on the Ames donation land claim. Eventually, there would be many grade schools in Sweet Home Valley. The one-room school-houses were filled with hand carved desks. A deep well offered a cool drink in a long handled dipper. Old slates with slate pencils were used by these settlers' children as they learned to read and write and whatever else there was to learn then. The cracks in the walls of the logs let in air conditioning, even in the winter time. The wood heater needed stoked often. There was always a bell for the teacher to ring at recess time, and a hitching rail for the ponies they rode. It was illegal for livestock to roam the streets.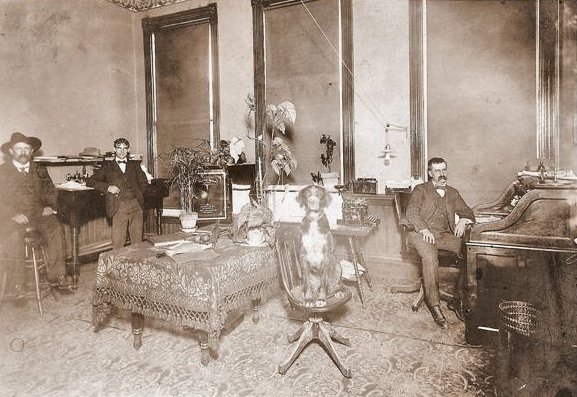 Also in 1874, new businesses were starting. Henry Slavens blacksmith shop was needed. And the Sweet Home chair factory & tannery was built on the banks of Ames Creek. I have two of the original chairs, with rawhide seats. Pie Malone Watkins had a fine millinery shop with wonderful plumed hats.
In 1883 the city of Sweet Home was incorporated.
By 1900 Sweet Home was changing and becoming a real town with a policeman, stores and good families building homes. The better houses were whitewashed and some were actually painted. Saloons appeared on every corner of the four blocks and a church on most. With saloons you needed a jail, and the marshal was paid $3 for the rowdy July 4th celebration. Sweet Home was still known as the toughest little town in Oregon. Dr. Luther M.D. took care of medical needs. Wages at Ames sawmill were two-bits an hour, most other mill jobs paid 50 cents a day.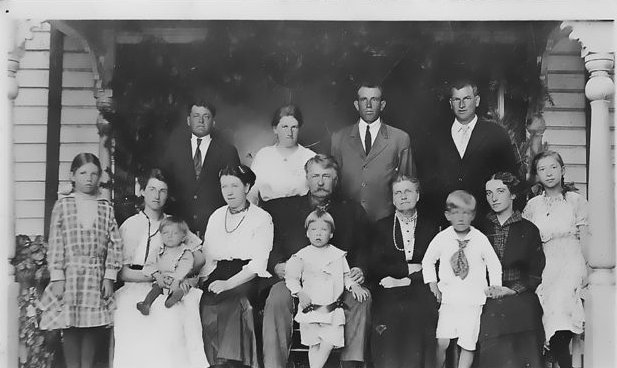 For 18 long years John Thompson farmed, vegetables were delivered by wagon, eggs sold for 6 cents a dozen, and calves brought 50 cents on the hoof. John worked the grounds on his acreage, and prepared a site that is now known as Oak Terrace to build Martha's dream home. The summer of 1900 John finished this fine new home for Martha, and his family of six moved into a home complete with polished floors, huge rooms and an ample upstairs where the children would sleep.
Martha and the children were well and happy in the move. Soon, they all would be in school. Most days they rode a pony to school and they tied their steed to the hitching post. Several children rode on one horse, they seldom used saddles; bareback riding was more fun.
The fruit trees John had planted earlier were bearing Bing cherries, pears, Gravenstein apples and the walnut crop was excellent. Martha canned the fruit and make winter preserves.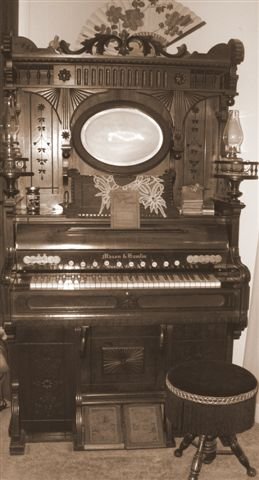 The yellow climbing rose that bloomed each year was enjoyed by Martha, and she played her beloved pump organ that sat in her living room. The three daughters, Lettie, Florence, and Ethel, sang in the Evangelical church choir and also sang with Martha as she played the organ music. All these things made Martha content.
By 1910, the town had a population of three hundred. It offered a feed store, a harness shop, confectionary, Malone's Millinery Shop, butcher shop, one hotel, a drug store, undertaking parlor, several general stores with large stock of goods for all family members; barrels of pickles, hardtack, hard candy, plugs of tobacco were good sellers as well as bolts of cloth. Building boards and nails were available in one business.
Hitching posts and spring wagons were downtown, ready to bring precious purchases to their homes. Noisy sawmills gave employment, and the money was spent in town. Telephone service connected Martha to her family in Illinois, and she could call.
John had prosperous years in his business office. Some of the early council meetings were held in John Thompson's Real Estate office. City councilmen worked to make this a good town. Visitors to council meetings pulled up a nail keg for a seat to see what the city fathers were planning.
Also in 1910, the Sweet Home high school building was under construction, it cost $4,000. Five students graduated in the class of 1915. Other grade schools eventually were Greenville, Pleasant Valley, Cascadia, Cowling, Liberty, Foster, Sunnyside, Holley, Crescent Hill, Crawfordsville, Beulah Land, Over the Top, Sweet Home and Rocky Point. Schools' locations were built for convenience of the students. And learning did happen in these wonderful schools. Lettie Thompson taught at Beulah Land, Willow Prairie, Foster, and Wiley Creek. She was sixteen with only a high school diploma; advanced teacher training prepared her at Albany College.
Martha did not allow Lettie, Florence and Ethel to ride their ponies to church on Sunday. She discouraged this for fear they would race them on the Lord's Day. One Sunday as the family headed to Sunday services at the Evangelical Church, Martha was driving her frisky team of ponies with the girls riding in the buggy. Albert Weddle was courting Daisy at this time by showing off his own shiny new buggy and prancing Indian ponies. He passed Martha with dust flying. Martha was outraged and whipped her ponies around him and raced him all the way through town. When questioned by stunned daughters as to why she could race and they couldn't; she answered "No man leaves ladies in the dust, Sunday or not; this was different."
The young women were blossoming into lovely ladies. And the fine swing in Thompson's yard was used for courting.
Lettie was the eldest daughter and very sought after. Andrew Jackson Daugherty met and married Lettie after meeting her at the Mountain House. Andy Daugherty delivered his third daughter in a wooden shack near Shaniko, Oregon, during freezing weather with just a blanket over the door opening. Audrey, my mother, their only living child, after two children died from diphtheria. Lettie divorced policeman Andy, who was killed later in the line of duty.
Winfield Scott Sankey, Lettie's second husband became Audrey's new father. My grandparents lived locally many years after Sankey's stint in the US Army.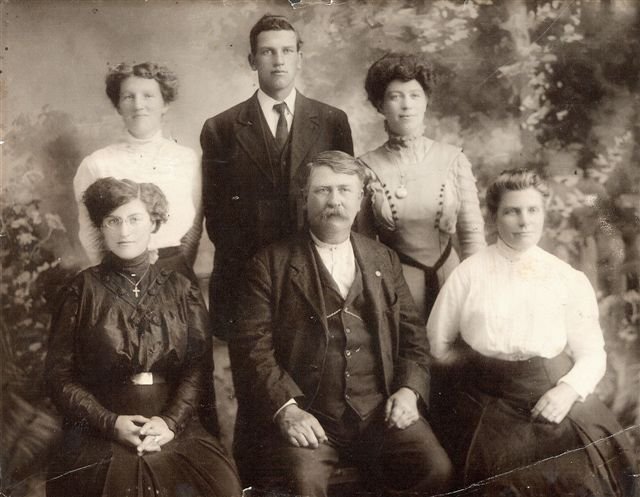 Henry Thompson fell in love with Fay Bowser; they married, with Archie their only child. Their marriage was unusual, as most of their married years they lived in separate houses. Aunt Fay lived to the age of 100 years.
Florence married James Hurt from Madras and lived out her life there. The Hurts homesteaded on Trout Creek in Central Oregon and had children, Merlie and Floyd.
Feisty Ethel married Ross Gedney and later they moved to Central Oregon also. They are both buried at Gilliland Cemetery, as most of our old timers are. Their children were Ben, Asa, Gene, and Maxine.
Henry Thompson spent many years working for the forest service, built bridges around Crater Lake, served as foreman of the CCC camps during the depression, built the well known lookout tower on Green Peter, and worked on the roads around Hoodoo Bowl. Henry also logged, and broke wild horses for the army. He served on the Sweet Home city council for ten years and worked in the real estate office with his father, John, especially involved in timber lands. He lived in Sweet Home and is buried at Gilliland.
In prohibition times of 1914 to 1915, Martha and Susan Lyons the first women elected to the city council had a goal in mind: they wanted to stop saloon drinking, drunken brawls, brothels and stabbings that were becoming common here in town. They simply marched into taverns, told the men "Go home to your wives and shame on you!" It did work! Prohibition became effective January 1, 1920. Their efforts did make a difference.
In 1915, the Hurts helped the Gedneys move to central Oregon, with two wagons of furniture, household items, and camping supplies to use along the trip on the old wagon road. They also brought two cows and extra horses that might be needed on the journey. The cows gave fresh milk and the group also stopped at the Mountain House for loaves of fresh bread, butter, fresh meat and feed for the livestock.
The two cousins; Merlie Hurt, 11, and Audrey Daugherty, 13, rode their own ponies and then drove the surplus stock. The long trip was fun but very tiring. Taking a wagon across the Santiam Wagon Road was quite a feat. Seven Mile Hill and Sand Mountain were a challenge. They needed both teams on one wagon to pull the wagon up the hills, and then down again to get the other wagon. On the other side of the mountains near Sisters, the real challenge was fording rivers and streams. There were no bridges along the trip, just adventures. It took two weeks to move the families. Martha Thompson traveled with the group, giving directions and enjoying the travel with her family.
In 1924, Sankeys bought their first car in Lebanon. No one in their family knew how to drive. Audrey was driven around the corner by the salesman and then given the wheel for the drive home. She did fine, but the first time that Grandpa Sankey drove, he forgot about brakes and said "whoa" and knocked the side of the barn down. Barns were where you parked cars then.
Lettie Sankey was elected mayor in 1929. She was elected on a fluke when someone added her name to the ballot because the other candidate was unpopular. Lettie ran the city through some of its difficult times. The surge of growth and the building of the railroad were hurdles she took on willingly.
However, WS Sankey took a leave of absence from his 27 year council term during her tenure as mayor. "I refuse to take orders from the battle axe on the council, when she always bosses me around at home." Sankey said. W.S. Sankey was born October 11, 1880 in New York; he died October 2, 1966.
Lettie continued to live in the Oak Terrace home, a frame building held together by square nails and originally built by the Ames family. In 1972 at the age of almost 94, a fire destroyed Lettie's 120 year old home. Lettie didn't give up; she moved into a small apartment on Nandina Street and died a few years later. Grandma Lettie Sankey drove until she was past ninety, and quit then because the car wore out.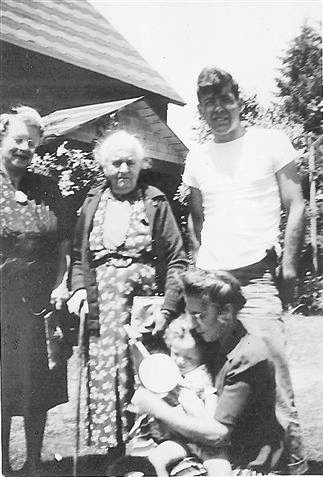 On her 94th birthday, Lettie asked for a blue wheelbarrow to do some yard work. I did find the perfect one at Hoy's hardware. She also requested pizza for dinner. "I have lived all these years without eating pizza, I think it is time I tried some." Of course, the pizza was very difficult for her to chew, but she was happy trying.
Lettie Sankey lived to 96 plus years, the same as her mother Martha who was nearly 97, when she died in Sweet Home. They are all buried in Gilliland Cemetery.
I want to back up just a tad here. Martha Thompson walked to my home soon after we had our first television set. She was just curious. She came briskly down Oak Terrace with her basket over her arm. I turned on Ed Sullivan's show and of course it was a black and white set, but she found it interesting. Martha said, "Imagine, all the way from Abraham Lincoln to this." My great-grandmother saw many changes in her lifetime.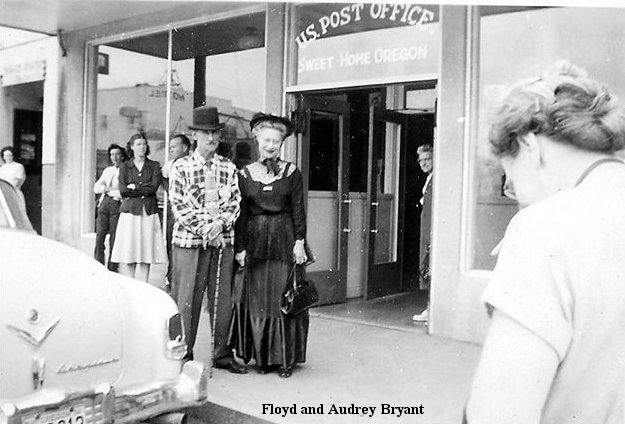 My mother, Audrey Nadine Daugherty Sankey Hyer Bryant, came into the world November 17, 1902. She mostly lived her life here except for the 27 years she spent following both her second father and husband in the military. Audrey's children were Jim, Tom, Karel, me Ramona, all Hyer, and Floyd Delmar Bryant. It was her wish to live to see the new century, but she died December 13, 1999, shortly after her 97th birthday. Both Floyd and Audrey are buried in Gilliland.
"For many generations this family has been loved and respected in the community which they helped transform from its difficult pioneer days into a town complete with city government, a business community, parks, and the other assets of a modern progressive community. It seems that every community has its leaders – in church, industry, business, government—and during Sweet Home's infancy, leadership in civic affairs and business were perhaps the most important contributions this talented family made to the community. The family is still ably represented in Sweet Home." Pat Hoy Hainline from 1979 "Sweet Home in the Oregon Cascades"

My name is Stephenie Flora. Thanks for stopping by. Return to [ Home Page ] All [ Comments and Inquiries ] are welcome.