Brooks Historical Society
3995 Brooklake Road
PO Box 9265
Brooks, OR 97305
Phone (503) 390-0698 (message)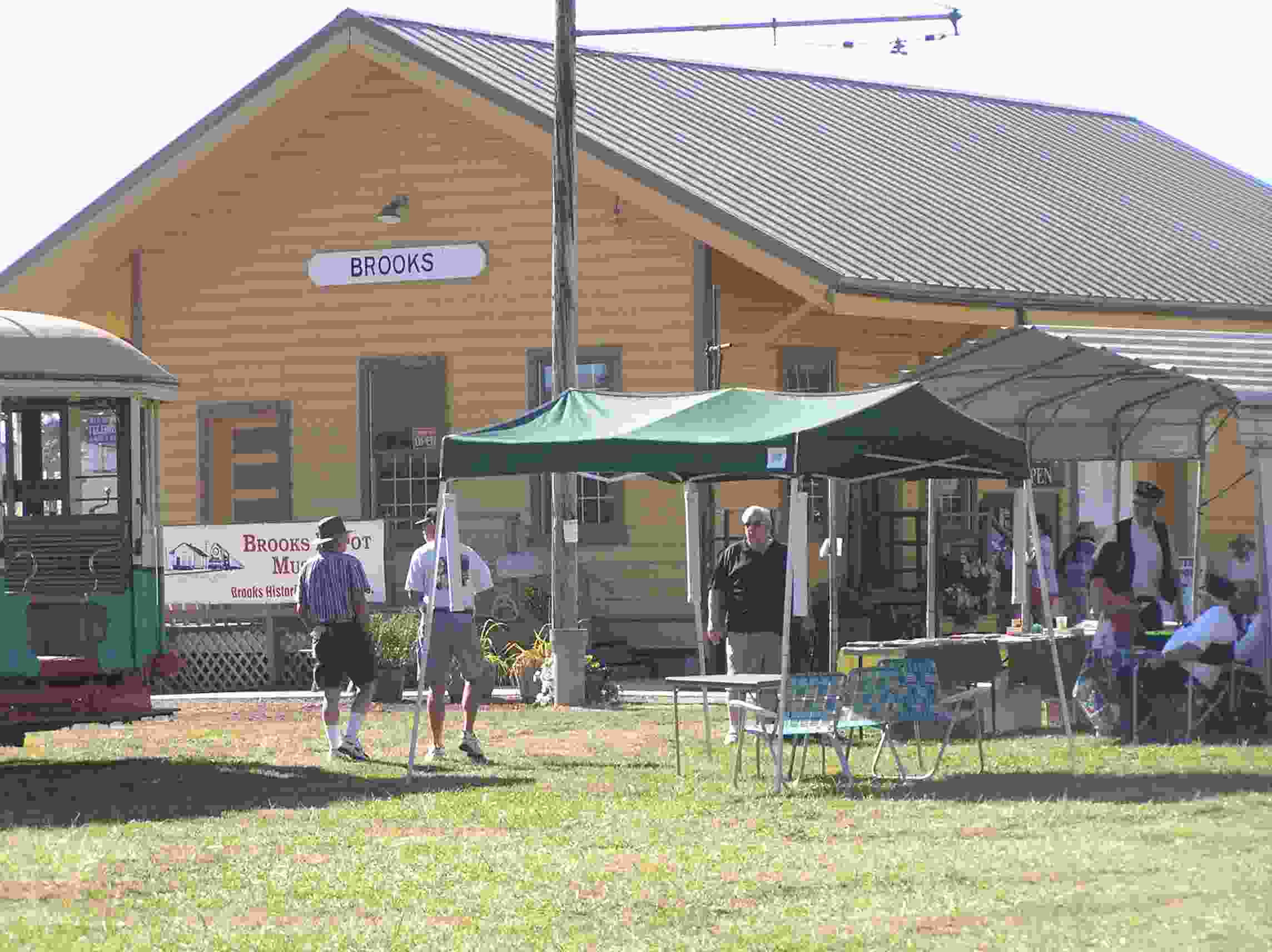 Mission Statement:
Brooks Historical Society is a 501 (c) 3 non-profit corporation. The objective of the Brooks Historical Society and Depot Museum is to educate and stimulate an interest in and knowledge of the history of Brooks, Oregon, and the surrounding areas.

Short History:
Founded in 1986, the Society began exhibiting local historical artifacts at Steam-Up that same year. In 1989 they moved the 1900 Southern Pacific Brooks Depot building onto the grounds of Antique Powerland. Needed restoration work preserved the ambiance of the Agent's Office and the Freight Room. These rooms now house a permanent collection of railroad, transportation, agriculture and domestic artifacts as well as local genealogy.
Meetings:
The Brooks Historical Society meets at the Brooks Depot Museum, located at Antique Powerland on the first Saturday of each month at 10:00 a.m.
Directions
From I-5 take Exit 263-go west approximately 1/2 mile to Powerland Heritage Park, 3995 Brooklake Road, Brooks, OR 97303.
Map to Powerland Heritage Park,
Map of the

grounds of
Powerland Heritage Park
Membership:
Adult $15.00 Student $5.00 (Elementary and High School) Business $35.00
Research Fees:
$30.00 per hour, 50 cents copies, Shipping fees apply.
Officers:
Pres: Frank Cunningham
Vice Pres: Dan Groah
Secretary: Vicki Cunningham
Correspondence Secretary: Marilyn Barner
Treasurer: Dorene Standish
Board Members:
Louis Sowa
Leah Duda
Carl Barner
Sharon Shelton

Contact Persons:
Dorene Standish (503) 393-2053 gdstand@aol.com
Vicki Cunningham (503)-390-6697 vickicunningham11003@gmail.com
Louis Sowa (503) 320-0440 lsowa@earthlink.net
About Powerland Heritage Park
Powerland Heritage Park, established 1970, is a 63 acre heritage site with 14 member museums. It is just one-half mile west of I-5 at Exit 263. It was originally established as Antique Powerland by a group of enthusiasts dedicated to the preservation, restoration and operation of steam powered equipment, antique farm machinery and implements. Today, it encompasses an impressive collection of museums dedicated to preserving the rich agricultural heritage of our area. Visit www.powerlandheritagepark.com/