Brooks Historical Society
3995 Brooklake Road
PO Box 9265
Brooks, OR 97305
Phone (503) 390-0698 (message)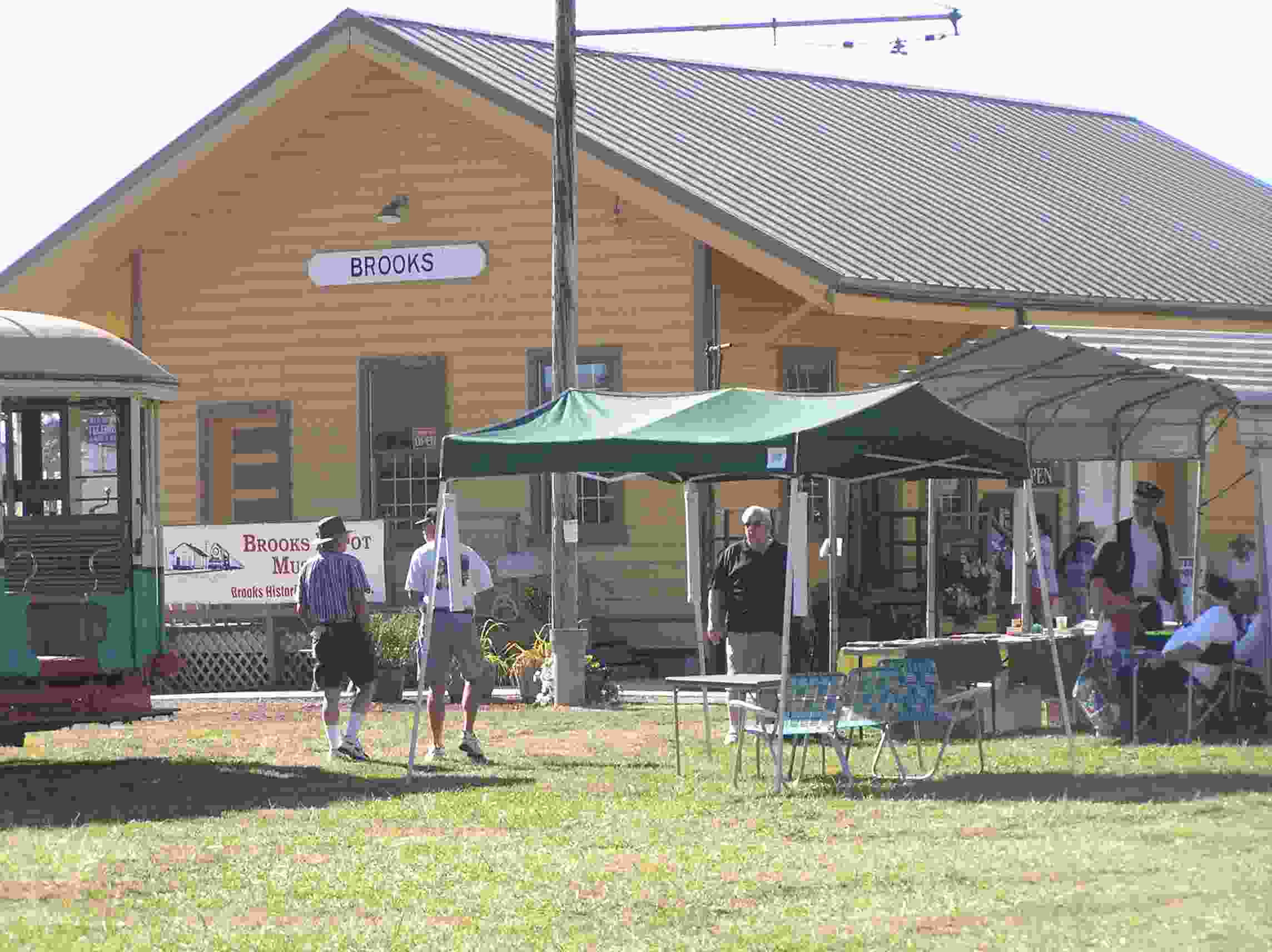 Mission Statement:
Brooks Historical Society is a 501 (c) 3 non-profit corporation. The objective of the Brooks Historical Society and Depot Museum is to educate and stimulate an interest in and knowledge of the history of Brooks, Oregon, and the surrounding areas.

Short History:
Founded in 1986, the Society began exhibiting local historical artifacts at Steam-Up that same year. In 1989 they moved the 1900 Southern Pacific Brooks Depot building onto the grounds of Powerland Heritage Park. Needed restoration work preserved the ambiance of the Agent's Office and the Freight Room. These rooms now house exhibits on Brooks and the surrounding area, and provide access to our research on families, towns, cemeteries and local genealogy.
Meetings:
The Brooks Historical Society meets at the Brooks Depot Museum, located at Powerland Heritage Park on the first Saturday of each month at 9:00 a.m.
Directions
From I-5 take Exit 263-go west approximately 1/2 mile to Powerland Heritage Park, 3995 Brooklake Road, Brooks, OR 97303.
Map to Powerland Heritage Park,
Map of the

grounds of
Powerland Heritage Park
Membership:
Adult $15.00 Student $5.00 (Elementary and High School) Business $35.00
Research Fees:
$30.00 per hour, 50 cents copies, Shipping fees apply.
Officers:
Pres: Jim Rogers
Vice Pres: Sharon Shelton
Secretary: Vicki Cunningham
Correspondence Secretary: Marilyn Barner
Treasurer: Dorene Standish
Board Members:
Louis Sowa
Leah Duda
Jeff Milligan
Michelle Duchateau

Contact Persons:
Vicki Cunningham (503)-390-6697 vickicunningham11003@gmail.com
Louis Sowa (503) 320-0440 lsowa@earthlink.net
About Powerland Heritage Park
The property on which Powerland Heritage Park resides is owned by Western Antique Power, Incorporated (WAPI). This corporation contracts with Antique Powerland Museum Association (APMA) to maintain the property and business operations of Powerland Heritage Park - almost entirely through volunteer labor. Together multiple agreements with all museums on campus, APMA and partnering organizations of all kinds are able to present to you a wonderfully unique nostalgic and educational experience. Visit www.powerlandheritagepark.com/
History
Before Powerland Heritage Park was established, annual threshing bees were held on farms in the Silverton and Woodburn, Oregon areas through the 1950s and 60s. The public was attracted to these events and attendance rapidly grew. To accomondate the growth, a 62 acre parcel of farm land was acquired in Brooks, Oregon. Western Antique Power, Inc (WAPI) was created to possess the property and ensure its annual event, soon to be known as The Great Oregon Steam-Up, would be held and continue to grow.
In 1988, when a site was needed for a proposed heritage truck museum in the Northwest region, Powerland Heritage Park was the preferred location. Brooks Historical Society moved the Brooks Depot to the site in 1989 and formally dedicated the building as the Brooks Depot museum July 14, 1990. Oregon Electric Railway Historical Society was next to arrive in 1996. Participation from diverse museums and heritage clubs followed over the years. Facilities now include blacksmithing, fire apparatus, electric railroads, miniature railroading, Caterpillar equipment, antique cars and motorcycles, early day trucks, large steam engines, steam operated cranes, small antique gas engines, tractors, drag saw manufacturing shop, model railroading, local history, and more.