COX CEMETERY
compiled by
by Sally Neely, Ann Hochspeier and Sherrill Hochspeier © 2005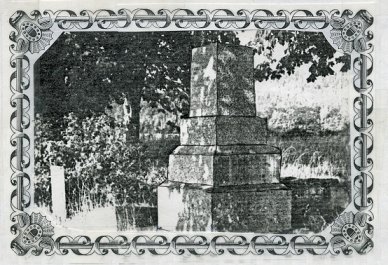 "The Cox Cemetery, also called Sidney or Ankeny Cemetery, is on a one acre clearing nestled on the timbered southwest slope of Ankeny Hill some eight miles south of Salem in Section 5 of T9S, R3W. It was founded by Thomas Cox, who was well known as Salem's first storekeeper. The cemetery, deeded to School District No. 37 originally, now is owned and managed by the Cox Cemetery Association. It is located in the north portion of the donation land claim (#762) purchased by Cox in 1847 from Walter Helm. The original half-acre cemetery tract was deeded by Cox's son Joseph and Eliza, his wife, to Marion County School District No 37 -- the old Fairview and later Ankeny District in 1876 "for use of inhabitants of the district for the purpose of a cemetery".
In 1918 an adjoining half-acre was sold in consideration of fifty dollars to the district for the same purpose by A. H. Birrell and Christina K., his wife.
Thomas Cox's wife, Martha, died 22 May 1849 and was the first burial in the community cemetery; the most recent is Arthur Todd in December 1987.
Thomas Cox was born 22 October 1790 in Virginia. His early life was spent on a farm, and when in his teens, his father and family moved to Ohio, where he attended school in the winter--when he could be spared from farm work. He married Miss Martha cox 6 July 1809. Although of the same family name, they were not related.
Cox was a successful businessman who had built and operated grist and carding mills, was a manufacturer of gunpowder and had a mercantile business before he decided to move to Oregon.
In the Spring of 1847, Mr. Cox, Elias Brown and Peter Polley (his sons-in-law), and Joseph Cox (a married son) headed for Oregon. It was a six month trip. Since Peter Polley and Joseph Cox lived in Missouri they were to rendezvous with the others near St. Joseph, Missouri, where final preparations were made for the trip. When men who purchased Mr. Cox's property insisted that he take part payment in goods, he took the goods, purchased wagons in Chicago, and oxen of his neighbors, loaded up and headed out. With these goods he established the first store in Salem, Oregon, the following fall.
During the winter of 1847 and the next spring, he erected the first store building in Salem: a two story frame building on the northeast corner of Commercial and Ferry streets, for a dwelling house and store. A plaque marks the site. He also purchased a land claim of Mr. Walter Helm, and employed Peter Polley to move onto the land and make improvements: plowing, fencing, etc. Mr. Cox spent most of his time upon his farm improving it. One of his first acts was to plant orchards and develop a variety of peach called Cox's Golden Cling which remained popular in Western Oregon through the 1930's.
Mr. Cox retired from the store soon after his wife's death and moved to the Ankeny Hill farm where son-in-law Peter Polley had been living.
In the spring of 1860, Mr. Cox moved to Salem, and resided with Benjamin Franklin Harding, his son-in-law, the remainder of his life.
Mr. Cox died in Salem, 8 Oct 1862, lacking only sixteen days of being seventy-two years of age. In physical development he was small and probably never weighed over 150 pounds, but was wiry and energetic, possessing good perceptive faculties and good fortune in all business enterprises. He possessed a very rare musical talent as he played the violin. He was buried in the cemetery he established.
In 1926 Prairieton Todd drew a large map on a window blind showing the location of graves in Cox Cemetery. This unique record is rolled and stored at the home of Wayne Johnston, a director of the Cemetery Association. Todd also left a $500 trust fund for the upkeep of the cemetery, handled by Pioneer Trust Co., which as since been depleted. The portion of Ankeny District in which the cemetery lies merged with Jefferson School District in 1966. The Jefferson School District oficials were unaware of the cemetery ownership until the early 1970's. Then October 1977, the Cox Cemetery Association was formed and took over the cemetery from the school district. The cemetery is operated by the association and maintained by donations. The current board members are: Mr. and Mrs. Wayne Johnston, Frank Marlatt, Louise McHenry Elliott. Burial in the Cox Cemetery is restricted to descendants of pioneer families buried there or to people living in the district.
Pioneers buried there besides the Cox family (Thomas, DLC #762, and Joseph DLC #884) are Hardings (DLC #539), Marlatts (DLC #2646, Nyes (DLC #1660), Bashaws (DLC #773), Polleys (Joseph DLC #774 & Peter DLC #972), Glenns (DLC #2434), Pettyjohns (DLC #885), and Robys (DLC #886).
The cemetery can be reached by taking Interstate 5 Exit #243, going west on Ankeny Road, turning left onto Buena Vista Road for 1 mile, turning right on Sidney Road for 2 miles. Cox Cemetery is behind Ankeny Hilll Winery at 2565 Riverside Rd. S. There isn't any sign to indicate the cemetery location. The gate is locked but entrance can be obtained by contacting the owner of the winery. Joe Olexa, the current landowner of the Joseph Cox property has accepted the responsibility for the key to the recently installed gate. The old barn on the property is said to have been constructed about 1851 by Joseph Cox. It has hand-hewn beams with pegs and a larger than normal interior structure that is still sound. The present owner intends to restore the barn and use it as a winery. The Gold Dust Grist Mill stood near here and was the producer of Gold Dust Flour and advertisements for the product can be found in the Oregon Statesman into the 1900's.
Names were obtained from cemetery markers, the 1926 plat map drawing by Prairieton Todd and supplemented by newspaper articles and mortuary records. There are 81 marked graves and 12 unmarked. As of 6 January 1988, two of the unmarked graves have not been identified. If anyone has additional information regarding the burial in the Cox Cemetery please contact
Sherrill Hochspeier